Things ebb and flow in higher ed. We're all used to it. But, what are the key takeaways from the data that's been collected now that U.K. institutions have passed the January UCAS deadline? 
(For our non-U.K. readers, the January UCAS deadline is one of the first core deadlines of the academic year for applications to U.K. universities.) 
Over the last couple of years, institutions have faced numerous challenges ranging from pandemic uncertainty to virtual teaching delivery methods. However, it looks like 2023 will be packed with its own unique set of challenges. Let's take a look.
1) Collapse of the mature market. The UCAS data indicates that the mature market is down -14% across the board. But, for 25- to 29-year-olds, that figure is -17% and for 30- to 34-year olds, that figure is -18%. 
Our thoughts: If you have courses or an audience that traditionally recruit a mature audience, think about your alternative markets and your messaging to this audience. Take time to understand why your mature learners are not applying at the moment, or invest in additional outreach to those audiences. Make sure you're the university they're thinking of when they are ready to apply. And ensure you address the barriers (e.g., cost of living), so they know you're there and ready for them.
2) Biggest fall in 18-year-old application rates since 2012. Despite an estimated 20,000 extra 18-year-olds in the U.K., the application rate for this audience fell by 1.9 percentage points — the largest decline we've seen. This is the first year-on-year decline in 18-year-old U.K. applications since 2017 and will need to be monitored.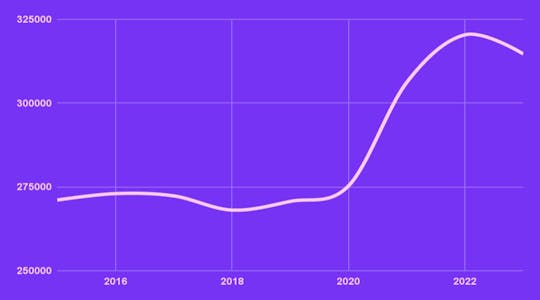 Our thoughts: This decline went against all predictions that the U.K. 18-year-old demographic would increase tremendously. Universities should understand that more 18-year-olds in the country doesn't necessarily mean more applications to programs. Note that this year's National Clearing Survey indicated that the high cost of living was the biggest barrier to students applying to university. So, take this opportunity to consider whether you've got financial support available to help students overcome this concern.
3) Higher tariff institutions continue to have a higher market share. The decrease for mid- and lower-tariff universities in 2023 is significantly larger than the higher tariff institutions, which clearly still attract a fair share of applicants, in spite of capacity concerns in recent years.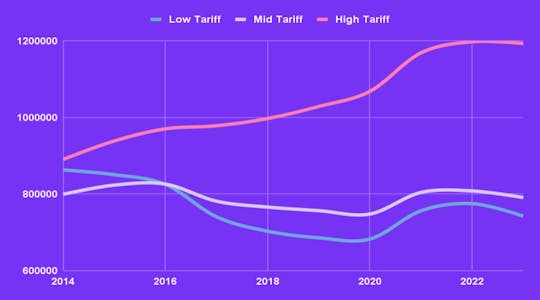 Our thoughts: If you're  a low- or mid-tariff university, are you leveraging your own USPs enough? Encourage student reviews and user-generated content. January's Student Pulse Trends Report indicated that only 19% of respondents feel universities do enough to monitor students' well-being and mental health. What do you offer that could help this concern? 
4) Applications to most subjects are down — but some more than others. You might need to think about your university's degree program portfolio. If it's weighted toward subjects including nursing or education, you might experience more of an impact. 
Our thoughts: Now isn't the time to discard those courses as lost causes. Take a look at your conversion activity, and make sure this reframes these degrees with positive messaging by showcasing the benefits (both financial and aspirational) of these choices. 
If you are going to rethink your course portfolio, make sure it's appropriate for this more retracted market. Remember there are courses that are up year-on-year, such as computing, law, and environmental studies.
5) All  POLAR4 quintiles (the measure of young people in a given area that participate in higher education) are down. The application rate for quintile 1 (the lowest rate of participation) dropped by 1.2 percentage points this year. The only other time it dropped like this was in 2012 when the government introduced higher fees.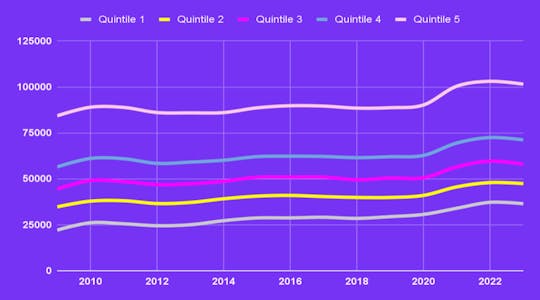 Our thoughts: Is your university investing in widening participation? Universities should be complementing their outreach work with policies to mitigate the cost of living and investing in marketing/messaging that resonates with these audiences.