Humor. Uncomfortable truths. And the P word.
These are just three of the creative marketing strategies for 2023 that were recently covered during the U.K.'s Most Contagious event.
I had a chance to attend the event, which was held by Contagious, a U.K.-based communications agency, and brought together about 700 creatives to learn about marketing tips and trends for the year ahead. As head of copy and content here at Net Natives, I'm always on the lookout for innovative ways our U.S. and U.K. partners can supercharge their marketing content. Based on what I learned at Most Contagious, here are six of my top takeaways. 
Funny is money
The opening remarks featured Contagious co-founder Paul Kemp Robertson recounting backlash the agency received on its name in the midst of a global pandemic. This was a stark reminder of the minefield that brands and businesses found themselves in throughout COVID-19. 
While the pandemic is no longer front-of-mind for brands and consumers, issues like the ongoing conflict in Ukraine, the cost-of-living crisis, and recessions around the globe have taken its place.
These are indeed challenging times for universities and for students. But, in the darkness, humor can provide some light. We were shown campaigns that completely nailed this sentiment, including a reactive campaign from Butterkist, who sent a mobile billboard to the House of Commons during partygate.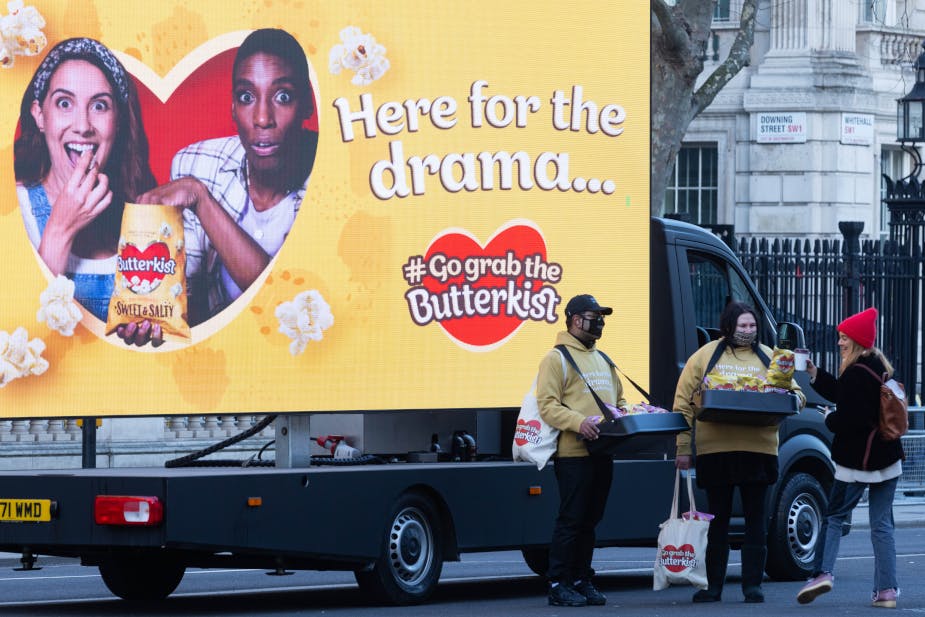 Samsung's new TVC for their Z Flip 4 smartphone was another highlight. This was explained (from brief to strategy to execution) by Thom Dinsdale, Weiden and Kennedy's global planning director.
Samsung's amusing parody of a thriller-genre flick was born from insights rooted in uncomfortable truths. That is, that smartphones in 2022 are innately boring, and Apple — arguably one of the most known brands on the planet — has a staggering advantage in market share. This prompted Samsung to think creatively about their differentiators, acknowledge their perceived weaknesses, and most importantly, handle it with humor. 
Hot tip: Don't be afraid to make people laugh. If you get the tone right — walking the line between being a serious institution and being tapped into the zeitgeist — you can illicit some pretty powerful feelings through humor.
Get uncomfortable
Uncomfortable truths were also the basis of a noteworthy campaign from Vice News with agency Dentsu Webchutney, which took home three Grand Prix from Cannes: The Unfiltered Museum Tour. 
Harsh Shah, managing partner at the Indian agency, talked us through the process of rewriting the history on display at the much-maligned British Museum through clever use of augmented reality (AR), giving the honest, 3D-rendered stories behind artefacts stolen during years of colonialism.
Though the British Museum isn't a university, education institutions can often come under similar fire. During the height of the Black Lives Matter protests, universities with historical links to slave traders, revered with statues and buildings baring their names, came under intense pressure, while messaging from others missed the mark. 
The Unfiltered tour's strength is in its ability to address these issues head on, telling previously untold stories in a meaningful way through narration from those impacted by colonialism.
Hot tip: Don't shy away from issues students in 2022 care passionately about. If your institution has history that's no longer compatible with modern values, address them head-on and use them as a platform to give voices to marginalized groups within your student body.
Using tech for good
A thread that ran through a lot of the creative forecasting of the day was that of generative artificial intelligence (AI). But, while platforms like Open AI's DALL-E 2 will likely revolutionize how creative studios around the world showcase their work at the pitch stage, there are ethical questions and royalty issues yet to be addressed.
And, let's face it, no creative department will be living in fear of losing their jobs to robots anytime soon.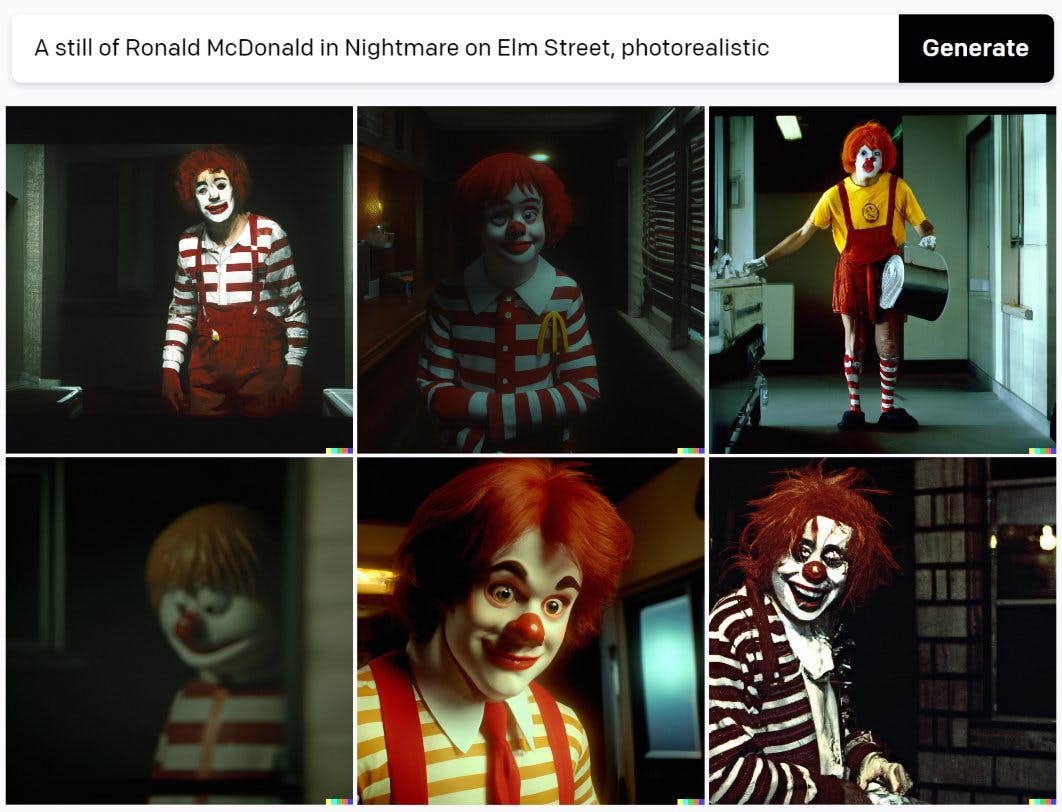 We were warned that the metaverse is still in its infancy — and, for now, not worthy of massive marketing budget allocation beyond testing in games like Fortnite and Roblox. We also learned that non-fungible tokens (NFTs) are no longer "cool," as they begin the descent into the trough of disillusionment. 
But, the message was loud and clear. The tech is here, now. Learn to use it, or risk playing catch-up in the future. 
One outstanding use of technology on the day that blew us away was Morten Grubak and Christine Smith of VIRTUE Worldwide. They showcased their incredibly moving campaign, Backup Ukraine, which is an initiative that hopes to counteract Russian demolition of Ukrainian cultural history by mapping its important statues and buildings using Polycam, and backing them up forever in the cloud.
The initiative, partnered with UNESCO, is now powered by Ukrainians on the ground who are freely using the technology on their phones to crowdsource 3D imagery of their history — and are providing a rare glimmer of hope at a horrific time in history.
Hot tip: Embrace new technology in your campaigns. Everything from open days to city guides can provide useful resources and information in new and exciting ways for increasingly tech-savvy audiences. And don't be afraid to use your students as your advocates and your creators. Chances are, they know more than we do about what content resonates. 
The P word
"Purpose" is a word that will likely divide any room of marketers, especially when it comes to multinational corporations having their say. For example, does your mayo really need a mission? 
Hellmann's Make Taste, Not Waste campaign, presented by Christina Bauer-Plank, global brand vice president, and Regan Warner, Ogilvy's global creative director, hits the mark nicely. 
People don't like brands telling them what to do or how to live. But, one of the most effective things about the Hellmann's creative platform is that it has the capacity to live in so many different formats, inviting real people into the brand story through initiatives like Fridge Night (a campaign encouraging people to use up what they have in the fridge before throwing it out) and enacting real change, beyond just sales. 
In another talk by Felipe Thomaz, a professor at the Saïd Business School, we were encouraged to move the goalposts in the pursuit of differentiation, looking beyond the traditional paradigms of price and quality. This reminded us of the work we did in partnership with the U.K.'s University of Hull — the Plastic Pledge.
The university had the differentiator. We just needed to frame it in a way that drove action, while positioning Hull as a place with purpose that it can positively back up. 
Hot tip: When it comes to purpose in advertising, find your niche. Find something your institution truly cares about and can truly impact. Don't try to be all things to all students; you'll end up being nothing to none. And you'll probably annoy a lot of them en route.
Get personal
Nils Leonard, Uncommon agency founder, gave a talk on A British Original, which is the new creative platform from British Airways, that really resonated with me as a copywriter. The copy-led campaign that delved deep into the reasons we travel, after years of disruption, is elegant in its simplicity, and lives its core value of originality throughout. 
The agency's copy team has written over 500 variations of the ad, each touching on personal stories to ensure that no one ad is likely to be seen twice by the same viewer.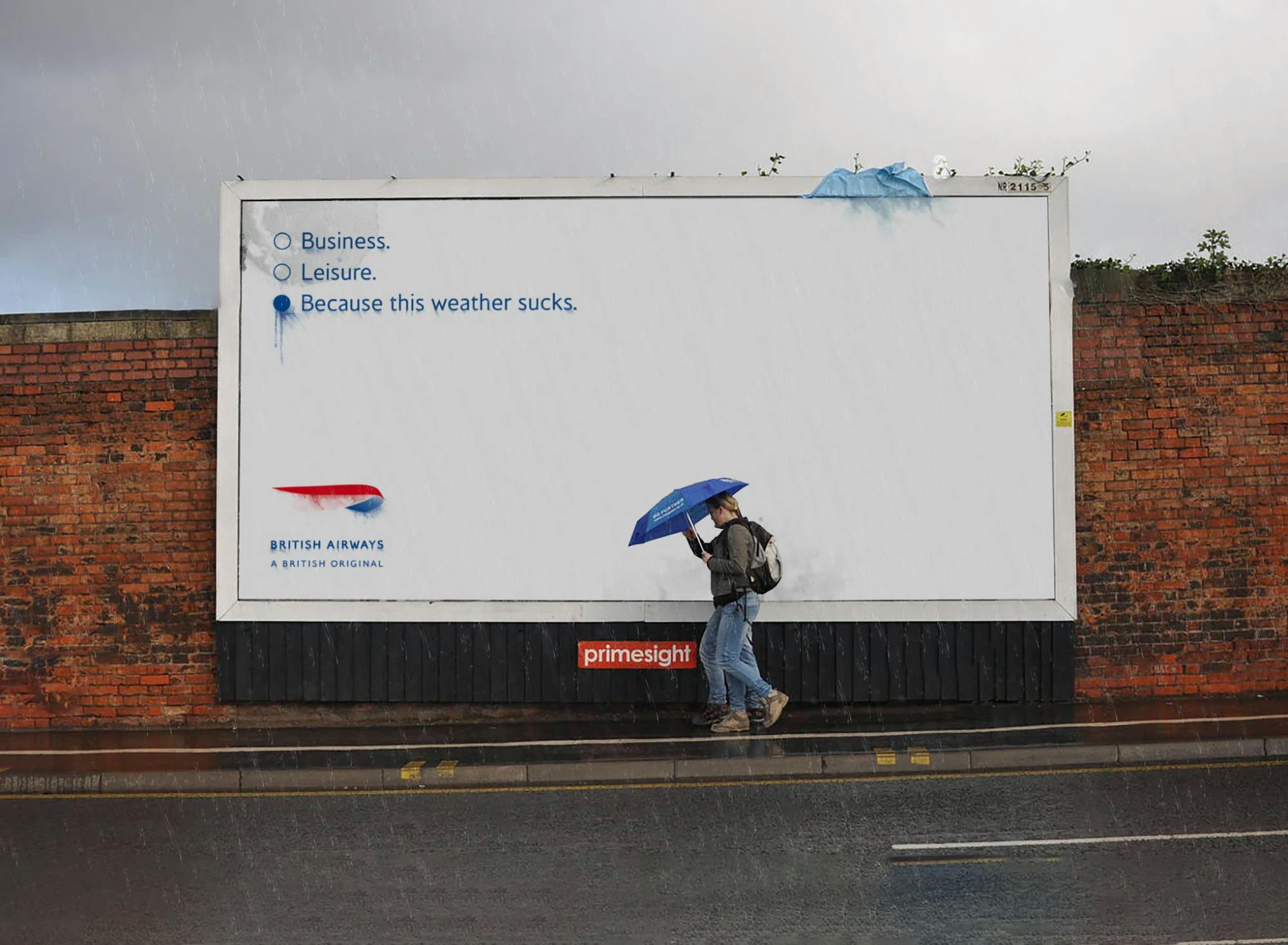 Hot tip: As marketers, particularly in the education space, we've been told for years that personalization is everything. Though we can't write ads for every different kind of person looking for a university, we can lean on inherently human experiences to tell stories, evoke feelings, and leave a meaningful impression on our audiences.
Disrupt, disrupt, disrupt
Parisian agency Marcel charmed us with their presentation, as Gaëtan du Peloux, CCO,  and Claudia Illán, copywriter, showcased their campaign for French refurbished tech retailer, Back Market.
A massive campaign spanning three years, Hack Market utilized every facet of the agency, from commissioning a research piece on the environmental impact of buying a refurbished phone (which is 91% better for the environment than new) to the legal department (a £60,000 fine and some light jail time was accounted for). 
The result is a slick, smart, effective campaign that goes after the big boys, using their tech, in their stores. Check it out.
Hot tip: It's always a hard ask addressing your competitors head-on. Legalities mean we can't name-check them directly, and we exist in a space very few ordinary people care about, making generating a bigger buzz quite the task. But, that doesn't mean we can't think creatively when highlighting your benefits in more disruptive, outside-the-box ways. Be brave.
Wondering how you could integrate these strategies into your 2023 marketing plans? We're here to help. Give us a shout, and let's start a conversation.